Accommodation Specials!





The Kuranda & Daintree Package offers 2 exciting days exploring Kuranda and The Daintree Rainforest
KURANDA AND DAINTREE
- Kuranda Scenic Rail
- Skyrail Cableway
- Daintree Discovery Centre
- Cape Tribulation Beach
- Daintree River Cruise
- Return Trinity Beach transfers

SAVE $13
2 DAY PACKAGE

Stay between now and 31/March/2019





Amaroo at Trinity is perched high above the beach offering all guests stunning views over the Pacific Ocean.
STAY PAY OFFERS!
YEAR ROUND SPECIAL!
*Free Wi-Fi
*Studio apartments with balconies
*On-site tennis court
*Pool, Spa, BBQ
*Steps to beach


*Based on 7 night stay
*Black out dates apply
Stay between now and 31/March/2019
Trinity Beach Australia
Trinity Beach is only 20 minutes from the Cairns Airport, here you have 1km of beautiful palm fringed sandy beach with great beachfront & family holiday accommodation.

Most Great Barrier Reef & Rainforest tours will pick up guests from Trinity beach.
Our local consultants can help you choose the ideal accommodation & activities for your Trinity Beach holiday.
Local Office : 07 4040 2100, +61 7 4040 2100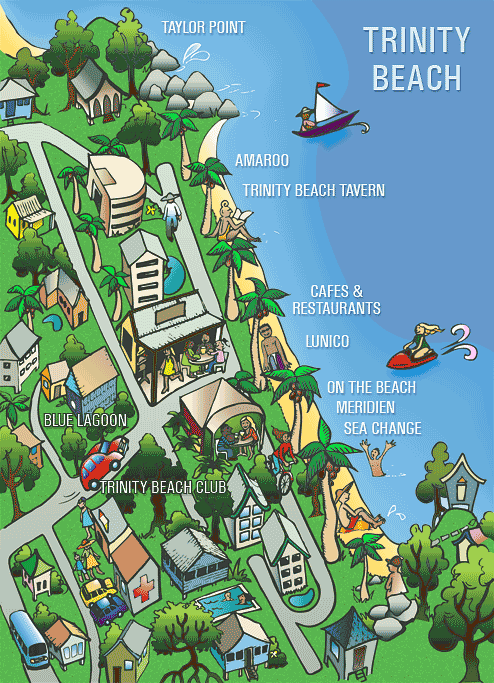 About Trinity Beach
Welcome to Trinity Beach
A favourite with the locals, Trinity Beach is safely nestled between two headlands, with a rocky walk and headland at the Southern end, and over 1km of beautiful palm fringed sandy beach with great facilities.

Here you can relax and enjoy soaking up the Queensland sun, build sand castles with the kids or experience some of the popular beach activities on offer. Conveniently located just 15 minutes from the Cairns Airport, Trinity Beach is the ideal family escape for those after a beachside holiday, whilst the small beachside village atmosphere provides a safe and quiet escape

Trinity Beach Accommodation
Accommodation ranges from luxury beachfront apartments such as Sea Change and Vue, to quiet self-contained holiday units and beach front villas, which all take advantage of the lovely ocean views.

There are some great value properties out there too such as On The Beach Apartments which are situated directly opposite the beach. Further along in an elevated beachfront position is the Amaroo at Trinity. Amaroo offers simple studio rooms with magnificent panoramic views of the ocean and rainforest mountains. Accommodation at Trinity Beach is ideally suited to couples, families and groups.

Dining at Trinity
Right along the quiet beachfront are a variety of restaurants. L'Unico's is a much loved regular dining spot for locals and tourists, that enjoys spectacular views of the Coral Sea from on the Esplanade.

This popular award-winning restaurant specialises in Italian inspired cuisine, as well as some great local steak and seafood choices. At the Northern end of the beach there is the new Trinity Beach Tavern with lots of facilities including play stations, poker machines, etc; this is managed by a major corporation and serves the standard fare you expect from one of these large venues. You'll be sure to enjoy a bit of humour with your dinner at the Blue Moon Grill, situated just a couple of minutes from the beachfront. Signature dishes may include The "Major Mitchell" Blue Swimmer Crab Bruschetta - an exquisite twist of the Traditional Bruschetta with the eloquent addition of pure unadulterated crab meat. Their huge menu encompasses all regions of the world.

Trinity Beach Activitives:
A boardwalk runs along the entire length of the beachfront with tropical landscaped gardens, barbecues and shelters as well as a colourful children's playground. There is also a large stinger-proof swimming encloure from November to May which is lifeguard patrolled.

Take the walking track around the base of Earl Hill to the lookout for a superb view of Trinity Beach, the mountains and the islands off Palm Cove. At the Southern end of the beach is a lovely rocky walk with a stone seat high up on the rock where you can enjoy watching sunrises, sunsets, dolphins and boats. It provides great entertainment for children to explore the rock pools for marine life, crabs, shells and explore the coastal area. There are usually turtles popping their heads up and sometimes people are fishing.
Top 10 'Must Do's in Trinity Beach
Explore the rocky walk
Sip on a cocktail at L'Unico's
Have a beachfront barbecueVisit the Great Barrier Reef
Take the walking track around Earl Hill
Relax with a book at your holiday apartment
Walk to Taylor Point
Journey on the Skyrail to Kuranda
Take a dip in the ocean
Have fun in the sun and hire a sea kayak, skimmer board or boogie board

Getting To Trinity Beach
From Cairns Airport there are various transport options including a door-to-door airport shuttle, taxi, limousine or car hire.

Generally people who are staying at Trinity Beach hire a car so that they can self drive around beautiful Tropical North Queensland. Bus transport runs at convenient and regular intervals, both day and night. All tours can pick up from here and airport shuttles can be arranged.

Climate & Weather
Cairns has a Tropical climate, with generally hot and humid Summers and milder dryer Winters. The majority of Cairn's rainfall occurs during summer between January and March. Typical daytime min/max temperature ranges are 23C/31C in mid-Summer and 18C/26C in mid-Winter.

The most popular time for visitors to Cairns is between June and October, a pleasant time of year with low rainfall, cool comfortable temperatures and fine sunny days. Water temperature during summer hits around 29 degrees and drops slightly to 25 degrees during winter.

Whats Hot!
Travel Tools
Whats Hot!